Workflow Insights provide an overview of multiple records moving through a workflow. To navigate to an existing Workflow Insight, click the Insights menu in the left navigation bar and then click a card to open a workflow. The insight will display the workflow name, indicating that it is indeed a workflow insight.​

​
In the below example, we can see several Opportunity Records (represented by cards) in various stages of a "Managing the New Business Opportunity" workflow. 
​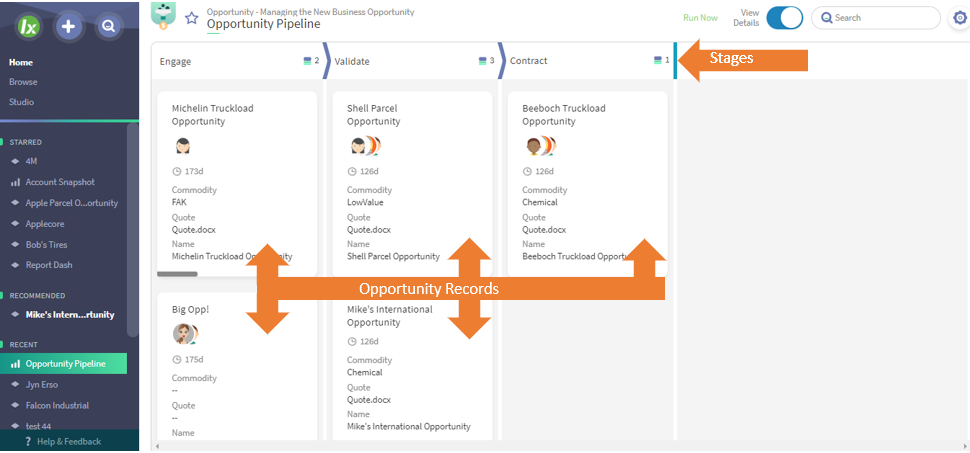 ​
View Details
The "View Details" selector at the top of the page will provide more information on each card. The scope of this information is configurable in custom views, but can include any record field, workflow contributors, due dates, and a color-coded status bar for the stage completion level. You'll see in the example here, this Insight's detailed view includes the "Commodity" value.
​

​
Run Now
When you first load an insight, Lanetix saves the data you loaded for 5 minutes.  Any updates made to the information in the report will not show for those five minutes.  This helps the system to load more quickly, particularly if you're toggling back and forth between the insight and other information. If you reload the insight after 5 minutes, the data will be refreshed.
If you'd like to refresh the data before the 5 minutes have lapsed, you can click the Run Now button next to the View Details toggle. 
​
​
Create a Workflow Insight
To create a Workflow Insight, navigate to the Insights Gallery in the left hand navigation menu and then click the "Create Insight" button at the top of the page. 
​

​
A panel will open on the right side of your screen. Select the type of record from which you wish to create a workflow insight (such as onboarding, opportunity or account). 
​

​
Another panel will allow you to choose the type of insight you wish to create.  Either a table (Insight View) or a Workflow (Workflow view).  If there is more than one workflow available for the record you've chosen, you will see that indicated. Choose the radial button for the Workflow on which you wish to create your insight. Name the insight and click "Create."
​

​
Building your Insight
Report Filter Parameters
Your new custom Insight is blank upon starting. Here we're going to set up an Insight called "Top Accounts.  Using the Conduct Financial Review Workflow, we will filter to show only Accounts with over $1,000,000 in total revenue. 
Select "Add Filter", then the field you want to filter by.  In this example, we'll use "Total Estimated Revenue." Then we'll identify how we want the filter to operate, in this case we want only "greater than" and the condition set at "999,999".  
​

​​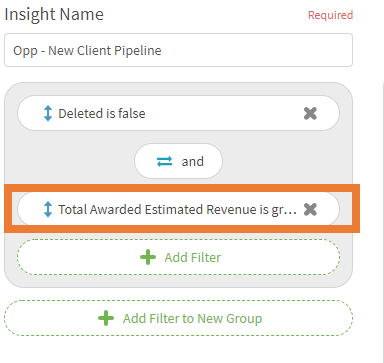 ​
Report Card Displays
Next, select which record fields should be displayed on your cards by clicking the field buttons in the right hand panel.. In this case, I've added the Logo, Name, Total Revenue and owner fields.  
​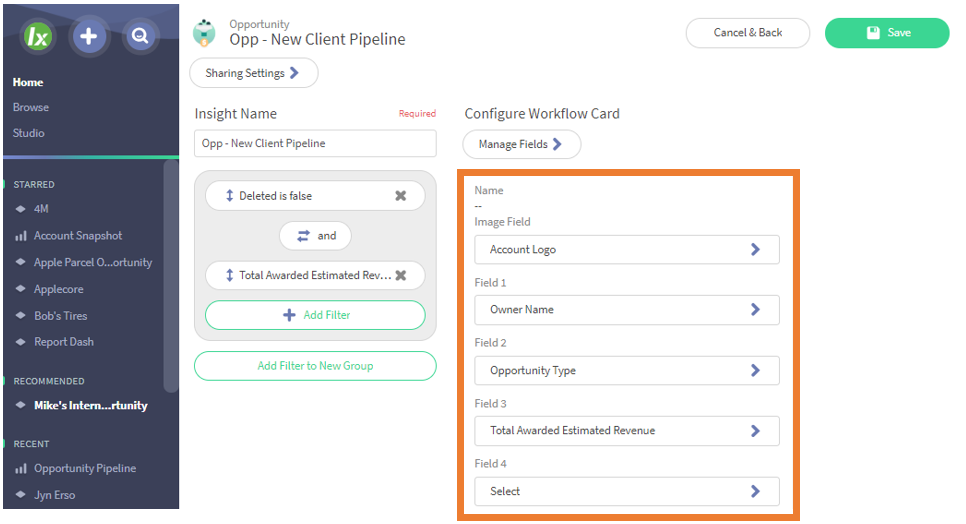 ​
Once you've clicked Save, you will see the finished view. Ensure View Details is clicked in order to see any additional fields you included on your view:
​

​