Customer administrators can access the Studio menu item in the left hand navigation bar. Then click on the Users and Groups tile.
For a quick video tutorial on Managing Users, check out this video.
For a quick video tutorial on Managing Groups, check out this video.
---
User Administration
To add, deactivate or update users in the system, click on the Users menu on the left hand side.

Creating a New User
To add a user to your organization, select the New User button. Fill in a name and email, then click the green "Create" button. Send the new user an invite to let notify them of their new account and a generated password via email. You won't be able to create a new user with an already existing user's email address, including deactivated users.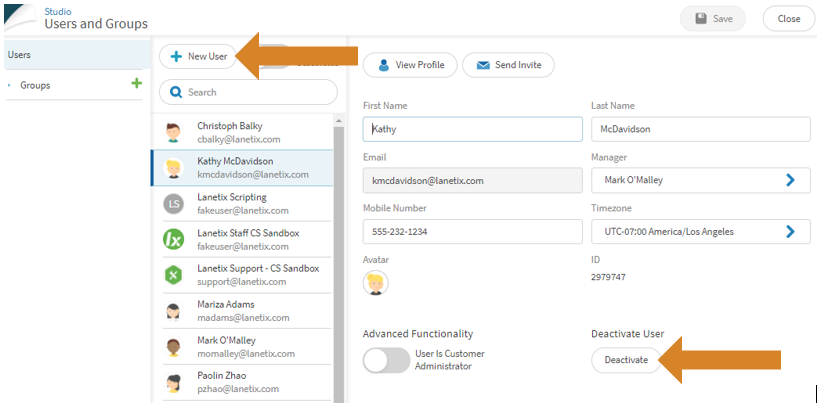 Deactivating a User
​To remove a user from access, click the "Deactivate" button on the user's configuration page. These deactivated users can be accessed and re-activated with the "Show Deactivated" toggle above the user list.
---
Enabling Customer Administrators
As a Winmore Admin, you have the ability to give other users access to administrative features. Making user a Customer Administrator allows this user to add and remove other users in your organization, and bypasses security settings, making all content visible.
To enable a user, click on their name under Users. Near the bottom of the panel user configuration panel, under Advanced Functionality, update the User is Customer Administrator toggle switch on, as seen below.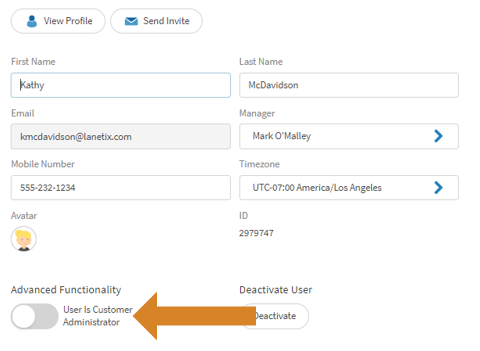 SSO
If you've worked with your Customer Success Manager to set up Single-Sign On for your users, you'll have received a special link that allows users to log in automatically through your network using their Microsoft Windows or Google login. That link will look something like this: login.lanetix.com/yourcompany
The user's email address will need to match exactly to the one used to log into your company's network. If not, they will experience a "Something Went Wrong" error when they try to access the link.
Please note that, even with SSO, you will need to add users before they can access the system. If a user tries to access the link and their user profile has not yet been created, they will receive a "Something Went Wrong" error.
Best Practice: We do suggest deactivating departed users in Winmore as well as your normal systems.
---
User Groups
Users can be grouped for:
@mentioning all members of the group at once in a Conversation
Setting security access for records and workflows within a group
Everyone Group
This group contains all active users in your organization and is not editable.
Additional Groups
You can also create separate groups for different groups in your company as needed.
To add a Group, click the plus sign next to the Groups menu. In the slide out box, input the Group's name and description and click Create.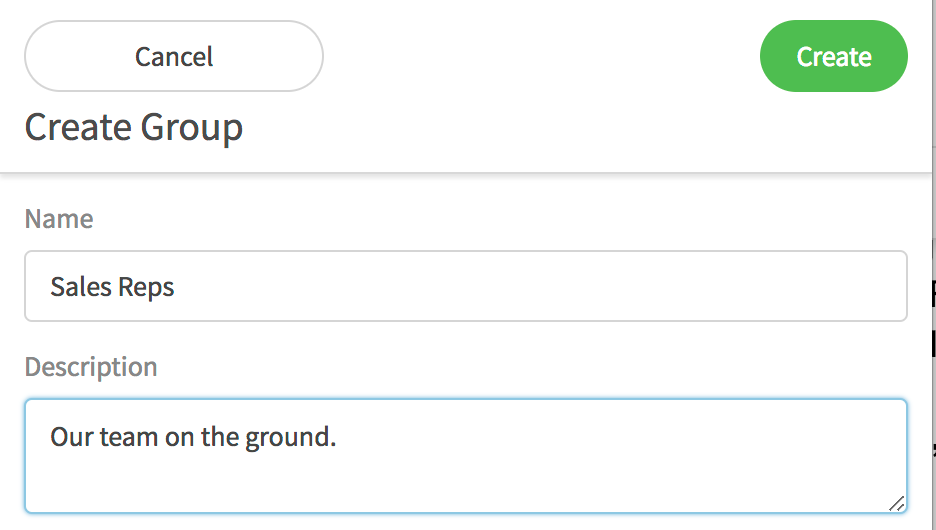 In this example, we've created a special group for Sales, and added three members to this group. Based on the current set up, they have Read and Create Access. They can be given further access to Update, Delete, Search and Admin rights.
Access to all Record Templates can be added or removed using the "Add or Remove Record Templates" link at the top of the table. Workflow access can also be added and removed in a similar fashion if you click the "Workflows" tab at the top of the middle panel.

Groups within Groups
It's possible to add existing groups to a new group. All members of the included groups will be "inherited" so the top-level group will contain all members of the included groups.
In this example we include NORAM sales and EMEA sales, which have separate regional users, to the All Sales group. This allows us to set permissions and @mention these groups either independently or as one.