Lanetix Workflows can model any repeatable business process. They are created with your Lanetix Lead to best meet the needs of your business, provide accountability, efficiency, and collaboration to your work. A Workflow facilitates taking action on a Record such as an account or opportunity.
A workflow is comprised of one or more stages, and each one of these stages is comprised of one or more tasks which can be given due dates and assigned to various team members.
Viewing a Workflow
To view Workflows that are available, navigate to a record. See Browsing and Editing Records
In each record, you will see associated workflows in the inner left panel. Select the Grid button to see detailed progress.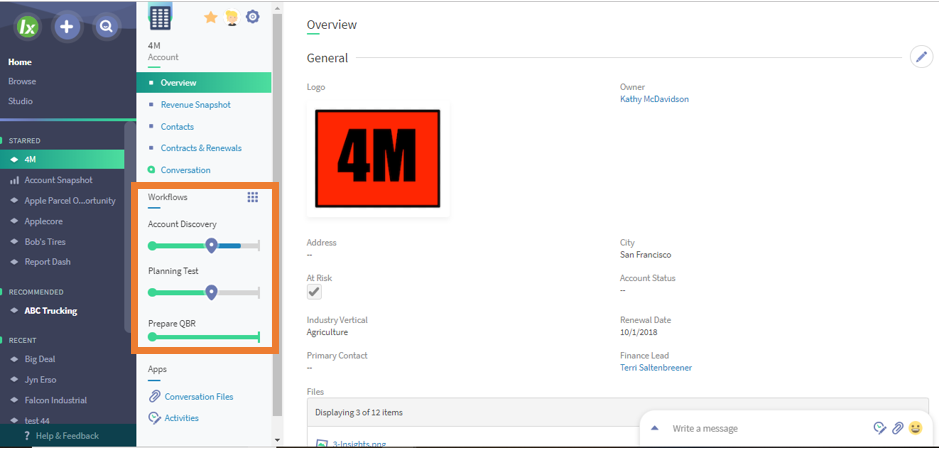 You will be able to see all associated workflows in various stages.
Workflows in progress will show with a progress bar, showing where it is in the process.

Workflows available to be launched will appear with an option to Click and Run the workflow.

Workflows that have been completed will be collapsed, but available for you to expand and view.

Click on an overview card to open the detailed view.
---
Viewing and Completing Tasks within a Workflow
The Workflow detail view shows the progress on the current stage, with tasks listed below the progress bar.
In this example we can see there are 4 tasks in this stage. The first task is completed (green) the second task is overdue (red), the third task is skipped (grey), and the final task is upcoming.

Selecting a task opens to the task details. Here you can take action on the task.  The task may involve:
Completing Field Information

Logging Activities

Uploading Documents

Simply Click Save & Complete to indicate completion.

If you've started the task, but need to save your work and resume later, click Save. When all parts of the task are complete, click the green Save and Complete Task. Your Lanetix Lead can make adjustments to the tasks and stages in a Workflow.

To re-assign a task owner or to update the due date, click either of the blue hyperlinks to update the information.

---
To easily maneuver between tasks, you'll see a blue link to move to the next Next Open Task in the workflow.  This will take you directly to the task details for the next task and allow you to complete the tasks seamlessly.

Once all tasks within a stage are completed, the system will provide a button to move the project into the next stage of the workflow.

---
Task To-Dos
There is an expandable section in task detail pages that lets you add to-do items specific to that task. To-dos are not related to record fields, they have no effect on if you can or cannot complete a task, and they cannot be viewed in insights - they're just a simple aid for the task owner.
It's like being able to put sticky-notes on your tasks and then have the gratifying feeling of checking them off as you progress! And who doesn't love a good--and completed-- checklist?

---

The agenda is the home page of the app. From here you can view any upcoming activities and tasks.  To complete a task, simply click on it and you will be taken to the task page to fill in necessary information.