Winmore allows you to work smarter and faster by helping you work together. Each record, whether an account, an opportunity, a carrier, etc, has a conversation page. Here, the team can discuss, strategize and work together in a visible medium that keeps everyone informed and all information in a centralized place -- no emails or meetings required!
Accessing a Record for Collaboration
There are several ways to access records for collaboration:
(1) Click on the Global Search icon to search all information in the system.
(2) Click Browse and then choose the record type from which you wish to search.
(3) You'll also see records in the left hand navigation pane.
(a) Records with recent activity will be shown in bold.
(b) Records in which a user has been @mentioned will show a badge.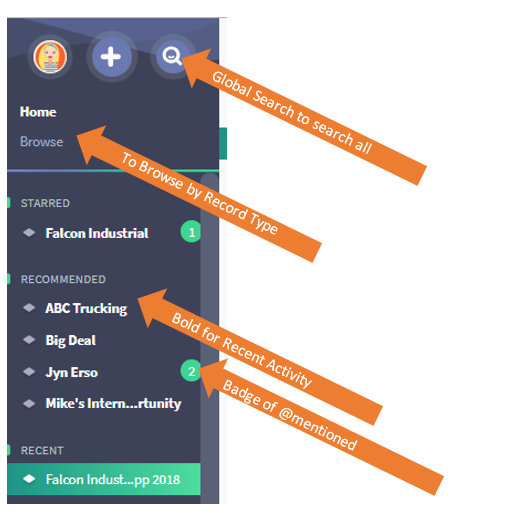 Once on the record, you will see a page in the inner left hand panel called

.
​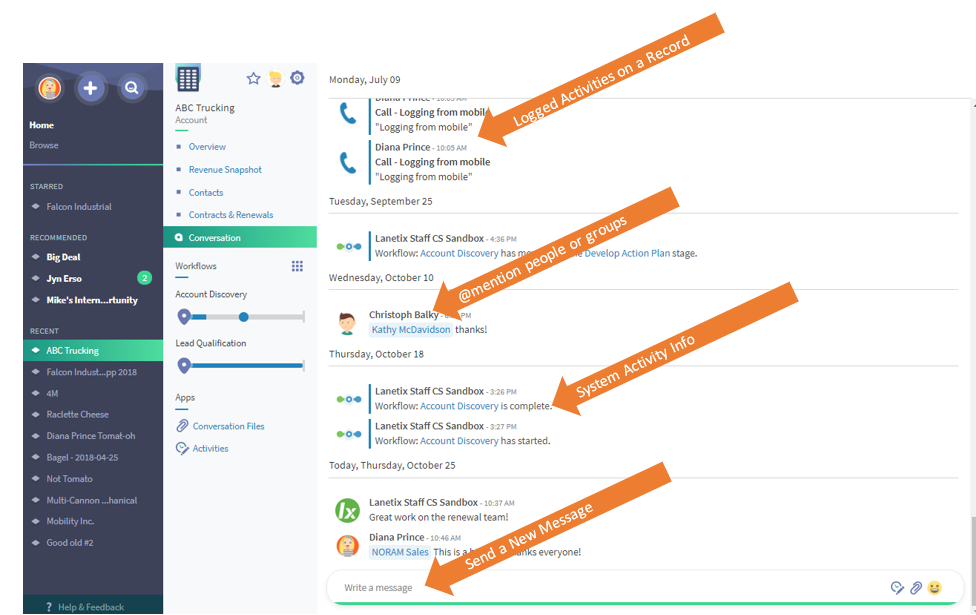 For more information regarding the Global Search, Browse and Conversations, as well as Starred, Recommended and Recent Records, please refer to our Knowledge Base.
Key Features of Conversations include:
Real-time messaging with ability to edit and delete any post you create.
@mentions to call attention to an individual or a group.
File sharing with a click of a button to share documents immediately with your team.
Image sharing which renders a preview so everyone can take a look.
Emojis Include emojis into your posts to add a little fun and color to the Conversation.
Emoji Reactions Respond quickly with a thumbs up at the press of a button.
Notifications In-App, email, and desktop notifications to alert you when your colleague is trying to get hold of you in in a Winmore chat.
Logging Activities in Winmore
Winmore allows you to log calls, emails and meetings on the records to which they refer. Future activities are scheduled into your agenda while past activities are logged in the conversation for your team to easily reference. This visibility and transparency keeps the whole team apprised of progress on each record.
To log an activity, click the Quick Launch button

and choose to schedule a future activity or log a past activity. Once complete, click Save.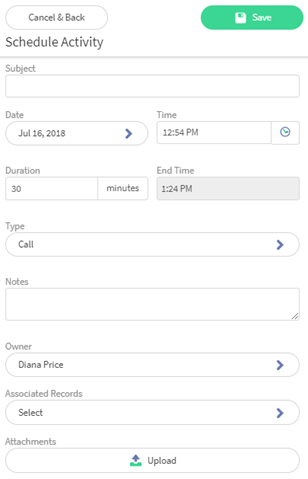 For more information on activities, please review the article on Activities.