Welcome Home
Home is your landing page and personal productivity center in Winmore. Current conversations and tasks are displayed in pre-filtered lists which let you focus on your work without distractions. Find and complete tasks and activities on one screen to take care of all your most important items quickly and efficiently.
Unread Conversations
What are people talking about?
This view shows activity in all of your conversations in one screen. Catch up quickly with talk around different records without navigating to each conversation individually. Each conversation displays the last few comments made by your team. You can react to a comment right in Home, or click on the record name to go to the conversation and make a new comment.
The display will alert you if there is new activity while you're in the Home screen. Click the "!" or "Load Conversation" buttons to update. Note that the Main Menu notifications are updated as you mark conversations read.
Use the "Mark All Read" button if you need to clear your plate. Note that this will effectively ignore any team members who are trying to get your attention with @mentions.
You also have the ability to Mute a conversation. If you click this, you will no longer see new posts associated with that record, unless you are @mentioned again or you reload the record.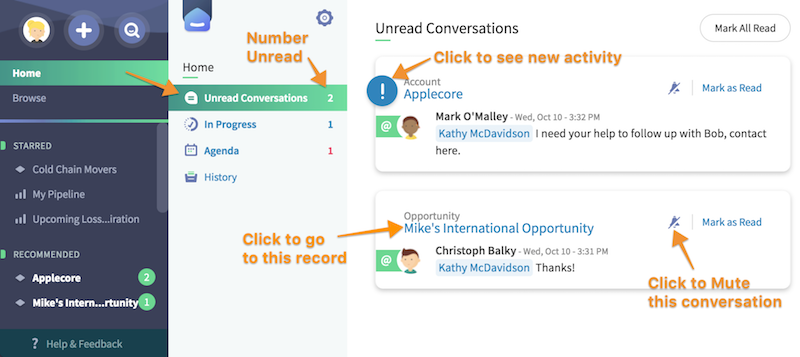 In Progress
What should you be working on today?
In Progress presents tasks and activities that may need your immediate attention based on Winmore's heuristic, including items that you've already started, are due today or overdue, or haven't been assigned a due date. These items are sorted by assigned date, with the latest assigned at the top, so you can take note of what's new. Complete tasks by clicking on the task name to expand, then save and/or complete right from Home. You can also reassign or adjust due dates right from this screen. Overdue tasks appear in red text to alert you that the deadline has passed.

Agenda
What's coming up soon?
Stay ahead of the curve by quickly referencing tasks and activities that are due in the days or weeks ahead. Agenda lists all tasks and activities like a calendar, sorted by due date, including any overdue tasks (don't want to let those slip by!) Click each item to expand and work on it right in place. Use the filter icon to narrow down the list to only Activities or Tasks.

Do note that edits to activities in this view may take a minute or two to refresh. If you saved your activity and click back into it immediately thereafter, your updates may not yet be available but they will refresh shortly!
History
Where is that task or activity I completed?
With History, you can view all activities and tasks that you've completed in the past. It's a personal log of your work in Winmore. Click on any item to expand and view details. Items are listed on the date that they were completed.