Winmore Conversations is a real-time chat service embedded in your business process. Every record in Winmore supports its own unique and secure Conversation so your team can stay focused on the project at hand, share updates, ask questions, or upload files to the Conversation.​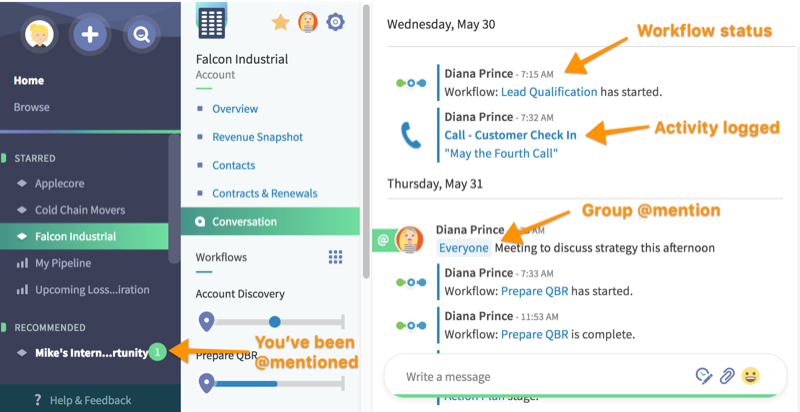 Key Features
Real-time messaging Post messages in real-time to allow teams to work together. Don't feel like what you posted really captured your voice? You can edit and delete any post you create.
Subscriber and group @mentioning Call attention to an individual or group of people to make sure your message is noticed and read by the people you want to read it. Use the "@" symbol followed by a name to automatically search your team for the person you want to notify.
Online presence When mentioning someone in a post see if they're also online, helping give you confidence that they'll see your message and reply quickly.
Multiple screen viewing sizes meant to adjust to each user's behavior. Not everybody uses Winmore in the same way, so we've built the chat module to be viewable in three unique settings: Minimized, Compact, and Full-screen.
File sharing Click the upload button or simply drag and drop files into the Conversation to share them immediately with your team.
Want to share an image with the team? Conversations recognize images and will render a preview so everyone can take a look. Want to get a better look? Simply click the image to get a full view.
Emojis Include emojis into your posts to add a little fun and color to the Conversation.
Emoji Reactions Respond quickly with a thumbs up at the press of a button
Notifications In-App, email, and desktop notifications to alert you when your colleague is trying to get hold of you in a Winmore chat.
Notifications
Records you interact with frequently will display new activity when others post messages.
If there is new activity in a Conversation you participate in, the link in the Main Menu will be in white.
If someone has @mentioned you specifically you'll see a direct message badge in a green circle, with a number indicating the number of mentions. ​
Not online? If someone at-mentions you, you'll get an email notification with the messaging post and a link to jump in and join the Conversation. See Notification Settings article.
Favicon notifications (Chrome browser only)
Online but on a different browser tab? Winmore can notify you of new activity and direct mentions with our multi-state favicon. What's a favicon? See the images below.
When you have no unread activity, the favicon appears as shown below:

New unread activity since you were last on Winmore is indicated with an !

Settings
Under Profile > Notifications you'll see two notifications settings, one to enable email notifications and the other to enable browser notifications.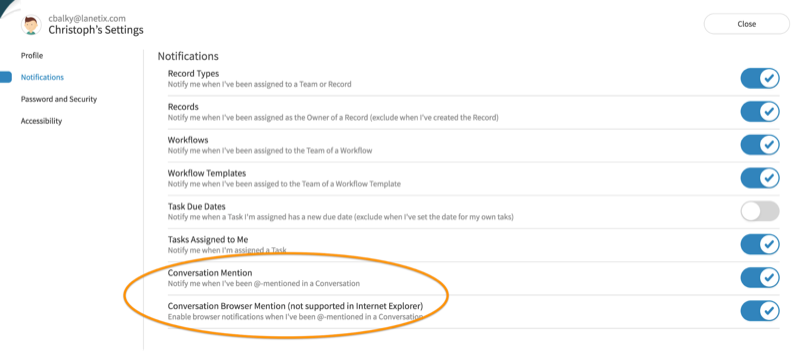 Winmore Mobile
The mobile app is designed to keep you and your team connected in a centralized place and talk about your work… on your work!

Similar to the desktop application, the mobile app will display records in white that have had recent activity. When someone @mentions you on a record, you will see a notification on your phone. While in the app, you will see green badges letting you know that you've been @mentioned.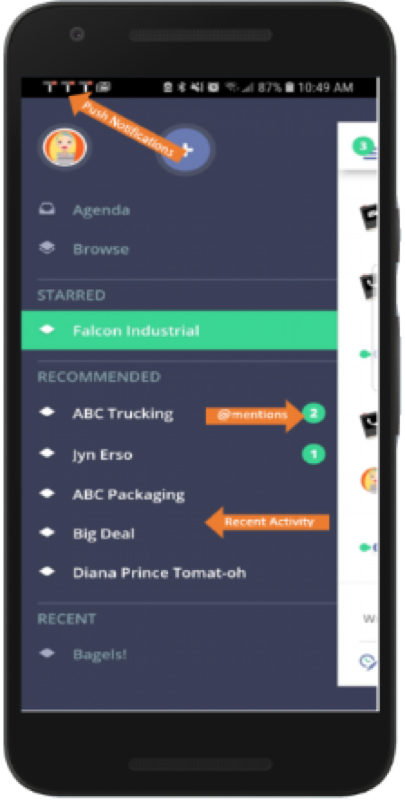 Of course, while in the app, you'll be able to review record conversations and add to them. Work anywhere!