When building an insight, you can choose a number of parameters to distinguish which records should appear in your report.
Fields containing dates can be filtered on a number of different ways. In this article, we detail how the specialty date filters work and how to set them up.
Specialty Date Filters
Under the Filter options, you are able to set up date ranges, either as definite dates or as a rolling time-frame. To do this, click Add Filter and find the date you wish to report from. (This date could be "Created At," "Updated At," or any other custom field that you've created using the date format).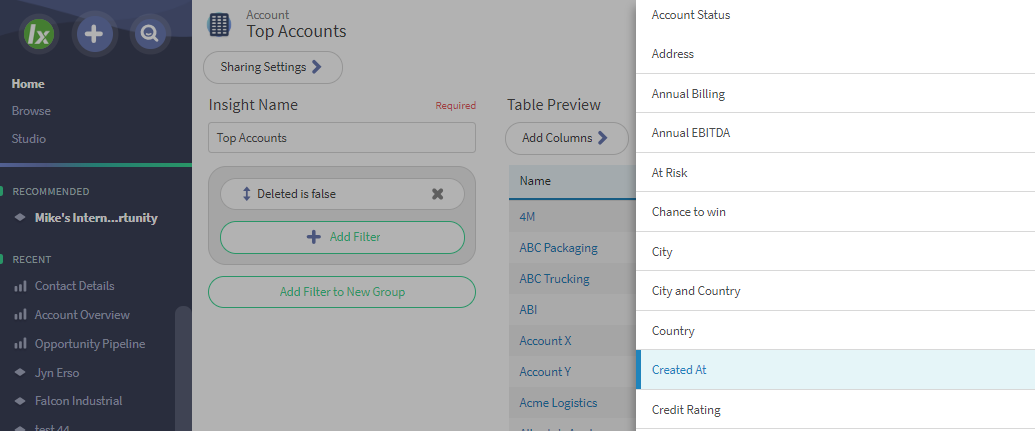 Upon choosing the date, you will be able to choose four different functions of how to use the date field:
Date "IS,"
Date "IS BEFORE"
Date "IS AFTER" or
Date" IS WITHIN ROLLING TIMEFRAME"
Definite Date Range
If you are looking to report all records within a specific date range (such as the current Quarter), you can create two filters, choosing "IS AFTER" and then "IS BEFORE" with the required dates.
For example, if you wish to pull a Calendar Q4 data for 2017, you could choose the filter: Created At is after 9/30/17 and Created At if before 01/01/2018.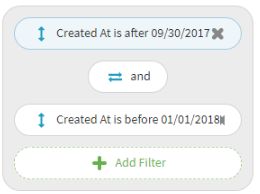 NOTE: Keep in mind that when choosing dates within a timeframe, you will need to use the day before and the day after as your limiters. ie. Anything after 9/30/17, means our report includes 10/1/2017 and anything before 1/1/2018, means our report includes 12/31/17. If you were to use the actual quarter dates, you would exclude records created on 10/1 and 12/31.

Rolling Date Range
If you are looking to report all records within a rolling date range (such as all records created in the last month), you can use the "IS WITHIN ROLLING TIMEFRAME" functionality.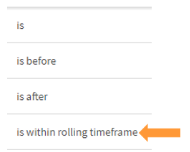 When you choose this, the system will generate a series of options for you to choose, such as "BEFORE TODAY," "TODAY," "THIS WEEK," "NEXT WEEK," "THIS MONTH," "NEXT MONTH," THIS QUARTER," etc…

Choosing one of these options will automatically update the report based on the day that you view it to include only records with dates during the designated timeframe.